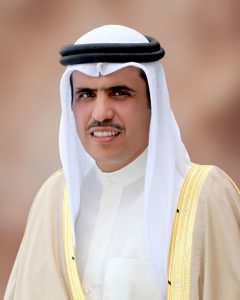 Ali bin Mohammed Al Rumaihi the Minister of Information Affairs is known for his leadership and professional skills in investment and strategic planning.
He also possesses a professional sense and a wealth of experience in the media field that earned him the leadership's respect and appreciation as he did well in all the posts he has taken up thanks to his academic qualifications from well-reputed British universities. He is also known for his dedicated efforts in the establishments in which he worked.
Al Rumaihi holds a Master Degree in Business Administration Philosophy from Nottingham University and a Master Degree in Administration and Information Technology from Leicester University in Britain.
He was appointed by royal decree number 48 for 2015 as Chairman of the Board of Trustees of Bahrain Institute for Political Development. He took up the post of Undersecretary of Communication and Information at the Royal Court as per royal decree 21 for 2015. He was also appointed as President of the Information Affairs Authority (IAA) with the rank of Ministry Undersecretary as per royal decree number 28 for 2013. He received the Order of Competence of the First Class from His Majesty the King in recognition of his efforts in serving the nation.
Al Rumaihi's active career began by working at the Ministry of Interior from 1982 to 2000. Then, he was chosen to work in the General Organisation for youth and Sports (GOYS) as Planning and Follow-up Director, and Acting General Director of Youth and Sports from 2000 to 2006. From 2006 to 2010, he worked in the private sector, where he held the position of Investment Director at the Banking Sector. Turning back again to the public sector in 2010, he was appointed Advisor for Strategic Planning at the Information Affairs Authority (IAA) where he oversaw the development of Bahrain News Agency (BNA). He, then, became Acting General Director of the Radio and Television and, then, IAA President.
Al Rumaihi took part in many training programmes in public administration, leadership, human resources, media, politics and law. He also presented Bahrain in many Arab and international gatherings. He is interested in scientific research and works as a lecturer at the University of Bahrain.